CEO Ventures Unveils the Market Acceleration Center (MAC), a New Venture Model in Seed Stage Investing
Executive Summary. The MAC helps our newest portfolio companies:
1) Get early sales traction (the #1 cause of all startup failures).
2) Optimize sales efficiency via a team of experts (Crack the Nut).
3) Increase exit valuations by capturing key metrics acquirers need.
i.e. "X" reps = "Y" revenue = "Z" margin, Avg. Sales Cycle, etc.
CEO Ventures is pleased to announce the launch of the Market Acceleration Center (MAC), an advanced new venture model in Seed Stage investing which will support the growth and market adoption of early stage tech companies that CEO Ventures invests in.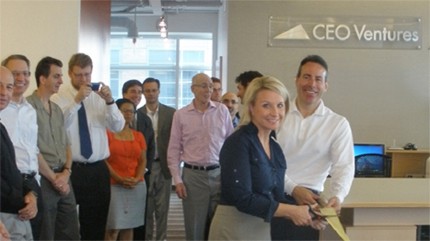 Pictured Left to Right: Floyd Hoffman (Dir. Corp. Dev. of CEO Ventures), Ron Verni (Retired CEO of Sage), Gordon Rogers (Dir. of Atlanta Technology Angels), Michael Blake (Director of Valuations at Habif Arogeti & Wynne), Donna Wise (President of portfolio company SurveyExecutives.com), Charlie Crawford (CEO of Private Bank of Buckhead), Greg Smith (CEO of Xerox Mortgage Services), Larry Smith (Retired General Counsel of Home Depot), Greg Crescimanno (Account Executive of portfolio company PRWatchdog.com), Sami Jajeh (Partner of Arketi), John Sabol (President of portfolio company ListK.com), Dori Lindsey (Director of the CEO Ventures Market Acceleration Center), and Michael Price (General Partner of CEO Ventures).
The vast majority of tech startups fail in one of the following stages: a) determining products customers actually want, b) building them, and then c) getting market adoption. The MAC will formalize CEO Ventures' support of its early-stage tech companies in order to help them avoid these key points of failure and increase their odds of success. The MAC will house and utilize powerful new processes and best practices in surveying prospect needs, programming new products, high performance marketing, and best of class sales processes to systematically solve each of these key points of failure.
While Seed Stage investing continues to yield some of the highest returns in private equity (example study at www.alturl.com/o8wi), the vast bulk of these returns are made by a relatively few high performers commonly dubbed "Outliers". Of the few select startups that are able to obtain professional funding in the U.S., about 1 in 10 yields high returns above 10X with the rest barely returning the capital invested or are write-offs. Two keys to success in Seed Stage investing are to, a) own shares in a wide portfolio of well vetted startups to increase the odds of owning an outlier, and b) help these startups overcome the most common points of failure to increase the average success rate. CEO Ventures is dedicated to these key investment principles.

Powerpoint Overview

Sales Teams Best Practices (pdf)
The MAC model is intended to complement existing Seed Stage venture capital models which typically add capital and a slice of an Angel or Partners' time, "incubators" which typically provide space in exchange for equity, or newer YCombinator-like initiatives which provide micro-funding and conception-stage mentoring to "capital-light" startups until the point of launch. "We needed a comprehensive model which addressed all common points of failure"said Bryna Larsen, President of PRWatchdog.com (a CEO Ventures portfolio company). "We successfully launched with a number of marquis clients and plan to grow aggressively."A few of these services are also available separately to other venture firms and growing companies to include; surveying to determine needs (www.CLevelResearch.com), lead generation (www.LeadFunnel.com), finding of talent (www.HiringSpring.com), and strategic planning/accountability systems (www.TeamEx.com).
CEO Ventures would especially like to thank some top Southeast thought leaders in technology sales who have both built great teams and helped us determine what the MAC should look like. Key executives consulted and whom shared generously what has worked in their experiences and future trends included Ron Verni who is the retired CEO of Sage which owns products like ACT!, Peachtree Accounting, etc (and member of CEO Ventures' Advisory Board), Tom Lynch of Infor (now $2 Billion in revenue), David Cummings of Hannon-Hill and Pardot, Allen Nance of Mansell Group, Glenn McGonnigle of TechOperators, Jim Noble of Noble Systems (member of the Advisory Board), Don Addington of ORTEC, Joe Tibbetts of Sapient who headed a related initiative at Charles River Ventures, Greg Smith of Xerox (member of the Advisory Board), Brooks Robinson who is a Co-Founder of CBeyond, and Tim Mattox who heads Dell's Worldwide Product Planning (also a member of CEO Ventures' Advisory Board).

View Our Team