Dates and Times.
Angel Group Syndication Meetings (Times by Region).
---
Times by Region.
(Dial-In Numbers Emailed to Group Chairs)
- Northeast at 9 am ET.
- South at 11 am ET.
- West at 10 am PT.
- Midwest at 3 pm ET (2 Central).




---


"This was the fastest money I ever got."
- Maria Maccecchini, Founder, QRPharma

"I found the call tremendously well organized...it's a good exercise to go through!"
- Michael Ibrahim, Founder, Zypsee

"Great format, great pace, nicely done!!! I was actually hesitant on doing a phone pitch, however you have this nailed down tightly and the feedback is actionable."
- James Ross, Founder, HedgeChatter

"I would like to thank you for all the effort and organization of AngelPool. This is awesome!"
- Arnaud Saint-Paul, Founder, Smartsy

"I found it to be very productive and useful. I especially appreciate the feedback. I certainly would recommend the process to other start-ups."
- Michael Daley, Founder, OrthogenRx

"Thanks so much for sharing the feedback provided by the Angels. This is very helpful."
- Abhishek Poddar, Founder, Rentzeal

"Thanks so much for the opportunity, I enjoyed it. I also appreciate the work you do for entrepreneurs."
- Chris Hawkins, SignNow

"Thanks for the opportunity to pitch in front of your groups today. I enjoyed the process."
- Jeremy Jones, Nitride

"We are actively pursuing 2 deals that were introduced to us by Angelpool."
- Ray Wenig, Ariel Savannah Angel Partners

"an efficient way of connecting investors with startups."
- Gordon Rogers, Past Chair, an Angel Group in Atlanta

"The AngelPool process (is) easy and effective and I applaud that. I found the experience to be good and efficient in terms of reaching many people. All very positive."
- Paul Basile, CEO, Matchpoint

"The feedback is great, and the interest from investors is fantastic. I enjoyed using AngelPool very much!"
- Dan Roy, CEO, MessageGears

"The network of angels you all have set up is very impressive. This is the future of fundraising. I really appreciate everything."
- David Laborde, Founder, SwiftPayMD

"I have to say the feedback is invaluable. Pitching was great, seamless and easy but the real value is in the ability to see where people clicked and what their questions were. It's really going to help me tighten up the deck."
- Julian Miller, Founder, Learnmetrics

"Once again, our team thanks you for the opportunity to present to AngelPool's members. We absolutely believe the hour was well used."
- Bill Malcolm, CEO, Distributive Power Generation

"The feedback from the Angels (is) invaluable. I felt the whole hour went very smoothly and can't see anything operationally that should be done differently from my vantage point."
- Jeff Kinsey, 1010 MagApp

"Nothing but great things to say about angelpool, any volunteers, etc."
- Simeon Schnapper, Founder, Youtopia

"I would not hesitate recommending AngelPool to other entrepreneurs."
- Chuck Birchall, Founder, Patient Provider Communications

"I thought the call was more crisply organized and paced than the live angel presentations we are more used to."
- Amitav Misra, Founder, CricketTrailer

"what you are doing with AngelPool is just fantastic! You are taking your time to help people like me who are in need of introduction to the right people for funding."
- Jim Grady, Founder, Gift-Give

"The experience was good and I like the feedback for each slide. The process was organized and I would recommend AngelPool to other Founders."
- Jerry Aguren, Founder, DRI Systems

"The feedback was organized, would recommend other founders do it, really like that we got comments by the end of day."
- Darren Wan, CEO, Easy Pairings

"We enjoyed participating. I found it to be a terrific use of our time. It was a great exercise that I think will benefit us. The feedback the participants provided is very valuable. Iíll keep you apprised of our progress."
- Steve Smithwick, President, Teledini

"We found the AngelPool experience to be very helpful and efficiently organized. Thank you for this opportunity, useful feedback, encouragement, and all the good things you do!"
- Mark Borman, CFO, Sheer Wind

"Thanks for having me on the call. I was impressed at how well organized it was, and just logged in to see the very helpful feedback."
- Reid Robison, CEO, Tute Genomics

"Thank you for putting together the program and allowing Trenergi to partipate."
- Norman Strate, Founder, Trenergi

"It was very well organized and I would recommend it to other entrepreneurs."
- Stephen Andrews, Co-Founder, Abogen

"I very much appreciate your efforts towards facilitating contact between start-ups and angels. This event you are part of has incredible value. The event was organized very well. The collaborative web tech worked really well."
- Brian Swalwell, Founder, Contractor Tools Online

"The opportunity was a really good experience with practical feedback and I would definitely recommend it to other founders."
- Pieter Conradie, Founder, RF Solutions

"Incredibly fast feedback! 10/10, would recommend to my friends for sure."
- Mike Ressler, CEO, StatEasy

"Thanks for the opportunity and, especially for the immediate feedback! I appreciate the work that goes into making that happen. We are delighted that 7 angels have indicated that they would like more information. That seems like a strong response."
- Ted Schwarzrock, Founder, Super Vitamin D

"I definitely found it immensely useful to present, and the comments that were left are going to be useful in refining the pitch. I'll reach out to the investors that indicated interest tomorrow morning. The interface and process was incredibly smooth and well organized."
- Gleb Zerovich, CEO, ZPM Espresso

"Thank you so very much. Greatly appreciate AngelPool. It appears to be very effective in facilitating communication which is great."
- Adam Simon, CEO, Cerora

"Thank you so much, I'm surprised at the response since I felt the presentation didn't go too well but I guess your investors are used to seeing past the superficial issues and finding the gem of the idea and it's value, and for that I'm happy!"
- Aaron Rollins, CEO, Business Texter

"I want to thank you for the opportunity to present. It was a very interesting forum and concept, and I hope to get more involved with bringing deals and investors to your platform."
- Marc Alessi, Founder, Synchropet

"I've made some revisions to my investor deck based on the feedback I received, which was VERY helpful. The online format you use for providing that feedback is most effective."
- Geoff Berlin, CEO, Retrofit America

What others say about AngelPool
AngelPool Syndication Network
Increase Deal Flow or Wrap Up a Portfolio Company Round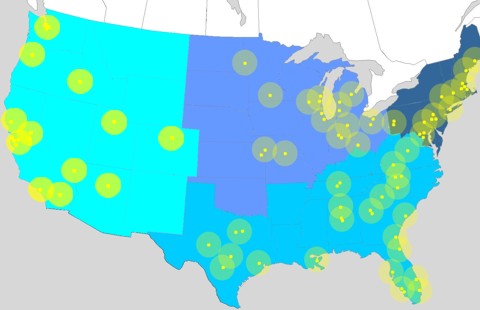 For Angel Groups gathering additional capital to complete a seed round or that want to make sure they don't miss any key deals in their region, the AngelPool syndication network provides a convenient webconference meeting every other month for rapid, time efficient sharing of key deals across angel groups within each region. There is never a charge.

Recent Presenters and Results

Angel Group Members
(most but not all syndicate).
---
A. Instructions for Angel Groups.
We hold meetings every other month in which you can syndicate your deals for other angels and groups to participate in time efficiently. There is no charge of any kind (all volunteers). Just email the company name to newdeals (at) angelpool.org and your deal will be accepted in the following priority order as originally agreed by all participating angel groups:
1. Deals being or just funded by a group.
2. Deals funded within the last year by a group.
3. Probable deals being diligenced by a group.
4. Local startup/venture contest winning companies.
5. Other notable deals within the region.
* Participation is subject to the Agreement below.
---
B. Instructions for Presenters.
Email the following 3 days before the meeting to newdeals [at] angelpool.org :
1. Short Presentation (about 5 minutes, Powerpoint or pdf format) and,
2. Short Executive Summary (if none use this

Alternate Form
).
(we will then send you the dial-in info the day before the meeting).
•
Fees
. There are no fees of any kind by AngelPool (all volunteer angel leaders).
•
Preparation
. Webconference times are by region (see Left column). After sending your presentation and summary above, selected companies are given up to 7 minutes (5 minute presentation plus 2 minutes of Q&A). Add your contact info to the last slide. The Powerpoint should
NOT
contain animation nor videos and to show web pages please screen capture them and paste into your Powerpoint as there is not enough time to do a live demo. The dial-in will be sent directly to the selected companies the day before the meeting. The webconference coordinator will centrally load the Powerpoints a day before.
•
Meeting Day
. There are usually 4-6 presenting companies, 5-10 angel groups listening live, and another 20 angel groups in that region who watch the stored presentation. By default upon joining the call everyone will be muted, when your name is called to present press *6 to unmute your microphone and begin (your deck will be showing at www.angelpool.org/view ). To advance to the next slide say
"Next Slide"
. After presenting be sure to press *6 again to mute yourself to minimize background noise as courtesy to the next presenter.
•
Post-Meeting
. Angel groups in that region then contact the companies they are interested in directly afterward to request in-person meetings to their angel members and/or more info or to negotiate terms of a convertible note or equity investment. We also encourage you to reach out directly to all angel groups near you just in case they missed your presentation on AngelPool (see the dropdown for those nearest you). .
* indicates not a member yet.

Report error
---
Participation Agreement.
1. Hold Harmless for Relay of Information. All participants and recipients of information agree to hold harmless and indemnify the group relaying deal information, including any staff or investors in that group and any persons assisting in the relay. Due diligence is up to each investor, any information that such investor wishes to rely upon must be sought directly from or confirmed directly with the principals of the company being invested into. The accuracy of the information has not been verified and is not warranted in any way.
2. AntiTrust Compliance. All participants must comply with AntiTrust laws including avoidance of any discussions or agreements related to: common or maximum valuations across multiple deals, standardizing of financial terms across multiple deals; allocation/limitation/prohibition of any group from providing funding in other markets; designation of a group as the winning provider in any given market, or other non-competitive behaviour. The objective of the syndication is to provide more capital to entrepreneurs from more sources in the aggregate which should not reduce any companyís options or value.
3. No Solicitation of Presenters. The purpose of these regional meetings is to provide additional capital to the best companies, not take capital from those that are struggling in their raises through Pay-to-Pitch or consulting fees. There are hundreds of volunteer angels and mentors donating their time to this process. AngelPool reserves the right to permanently ban any participant who solicits the presenters for any services or fees.
4. Binding on All Participants. It is the responsibility of each individual and group that participates in these syndication activities to be sure that each of its members, investors, or others it includes, participates or invests in these syndications and companies presented be aware of the principles above, agrees to be subject to them, and may not participate or be given access to any syndication meetings, materials, or information unless bound to the principles above.
5. Indemnification of AngelPool. All parties agree to indemnify AngelPool, its parent, principals and agents from any and all claims related to or arising from your participation or any future agreements or disputes with the presenting companies or their related parties. AngelPool's primary role is to make introductions and I agree that it has no fiduciary or other obligations of any kind to me, my organization, any content I present or receive, or any content I share verbally or in writing.
6. Accreditation. All potential investors who participate in these meetings and related syndication activities warrant to all other participants that they they meet the minimum SEC criteria of Accredited Investors as defined
here
and agree not to participate if they do not meet such minimum criteria.
7. Severability. Should any part of this Agreement be held invalid or unenforceable, that portion shall be construed consistent with applicable law and the remaining portions shall remain in full force and effect.
8. Applicable Law. This Participation Agreement, related information exchanges and any related claims shall be governed by the substantive law of and is subject to the exclusive jurisdiction of the State of Delaware, USA, without regard to any principle of conflict or choice of laws that would cause the application of the laws of any other jurisdiction.
9. Disputes. Any dispute between two or more Parties arising or related to any aspect of their participation, presentation, verbal discussions or relay or receipt of materials shall be subject to binding arbitration under the rules of the American Arbitration Association by one (1) independent arbitrator at a location nearest the defendant using the forum and application of Delaware law. The maximum award by the arbitrator may not exceed $1,000 for any claimed damages or liabilities and all parties agree to waive any special, consequential or punitive damages. The filing party shall bear the reasonable estimated legal costs of all parties payable at the time of the filing regardless of fault later determined by the arbitrator. At all times including after the settlement, any disputes and resolutions shall remain confidential.
10. Entire Agreement. I understand and agree that there are no other agreements or understandings that apply to my and all related parties' participation, Submission, that any prior agreements or understandings are superseded by these terms, and that no modifications or exceptions to this Agreement will apply unless agreed to by all parties.